Main Content

For some of us, the Civil War is the distant past, yet for many others, its legacy continues to shape every aspect of our lives today. As our country and community reckon with the long history and potency of racism, we are obligated to understand how slavery and the Confederacy have shaped TCU's past and continue to inform our present practices.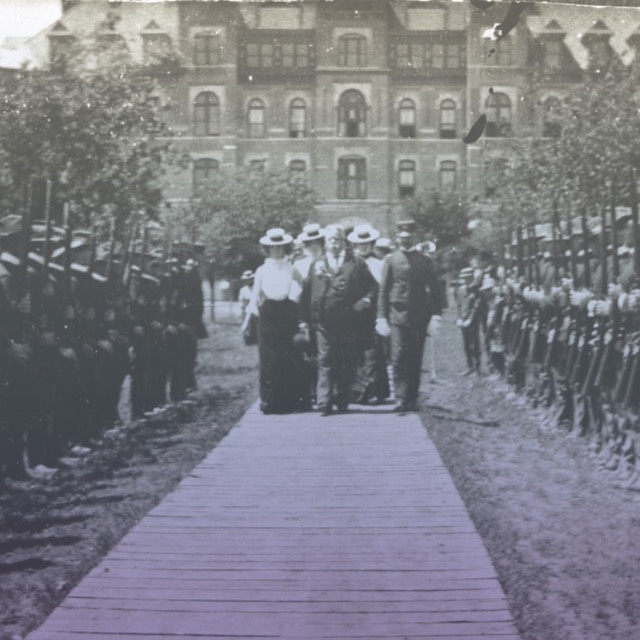 Texas Guards being reviewed by Gen. Fitzhugh Lee and Col. Alexander Easley in front of the Main Building on TCU's Waco campus around 1899. Photo: TCU Special Collections
To illuminate the future, we must accept a difficult journey that will connect each of us to the generations before. It is time to address our complicated shared history in order to move forward together as a united human family.
We cannot undo the past. But what better place to learn from the past than at a university? Every new day brings a chance to do better.
"Our study of TCU's history will provide critical perspective, deepen understanding and result in recommendations for action and healing."
The Charge
Starting with the fall 2020 semester, the Race and Reconciliation Initiative (RRI) will commit its first year to research focusing primarily on Black Americans and TCU's experiences with racism, slavery and the Confederacy. Other identities will be addressed in year two. This academic endeavor will draw upon a number of our existing programs to raise awareness of racism and inequality, helping us work toward a campus culture where everyone is respected and valued.
RRI also will immediately open channels of communication with the broader TCU community through the placement of signage next to the statue of Addison and Randolph Clark, TCU's founders, both to signal the start of the initiative and to encourage continued community engagement. In recognizing that this is merely the first step of many, a final report and recommendations from the first year of inquiry will include modeling how to explore other identities in the university's shared history.
This academic endeavor will commit its first year to research focusing primarily on Black Americans and TCU's experiences with racism, slavery and the Confederacy. Other identities will be addressed in year two.
Through the RRI, TCU will align with more than 60 universities worldwide as part of the Universities Studying Slavery Consortium, a movement designed for sharing research and strategies through semi-annual gatherings. Ultimately, the RRI helps the university embrace an active role in understanding and healing our community.
Committee Members
Tosin Alao
Undergraduate Student Representative
Susan E. Anderson, Ed.D.
College of Education
Jean Marie Brown, M.S.
Journalism
Leslie Epke, M.A., M.B.A.
Graduate Student Representative
Alan Gallay, Ph.D.
History
Frederick Gooding, Jr., Ph.D
John V. Roach Honors College
Lynn Hampton, Ph.D.
John V. Roach Honors College
Clifford E. Harrell
Athletics
J. Bryan King, M.B.A.
TCU Board of Trustees
Scott Kurashige, Ph.D.
Comparative Race and Ethnic Studies
Jacque Lambiase, Ph.D.
Strategic Communications
Adam W. McKinney, M.F.A.
Dance
Trung Nguyen, Ed.D.
Interim Assistant Vice Chancellor for Student Affairs
Sarah Robbins, Ph.D.
English
Tracy Renee Williams, M.S.
TCU Board of Trustees and President, TCU National Alumni Board
Holly Ellman,
Marketing and Communication
Alex Hidalgo, Ph.D.
History
Mary Saffell, M.L.S.
Mary Couts Burnett Library
Claire Sanders, Ph.D.
History and Office of the Provost
Karen Steele, Ph.D.
English and Office of the Provost
Tracy Syler-Jones, M.B.A.
Marketing and Communications
Aisha Torrey-Sawyer, M.Ed.
Office of Diversity & Inclusion
Marcellis Perkins,
College of Education
Diversity, Equity and Inclusion at TCU
Fulfilling our mission to develop ethical leaders and critical thinkers in a global community depends on our ability to attract and retain students, faculty and staff from diverse backgrounds who thrive in our community. TCU continues efforts to build a comprehensive diversity, equity and inclusion strategy aligning with our core values to create a campus culture where everyone is respected and connected.
Frequently Asked Questions
RRI was created by charge of the Chancellor and Board of Trustees; there are 15 core committee members organized into 7 different Research Task Forces.
RRI stands for Race & Reconciliation Initiative, and represents an academically-based historical inquiry into TCU's relationship with slavery, racism and the Confederacy.
RRI was charged into existence in August, 2020 and will be a multi-year endeavor. The RRI will deliver a first year report to the campus on Reconciliation Day on April 21, 2021.
In the COVID-19 era, RRI members are gathering primary and secondary sources online and in person with the help of archivists. Virtual meetings ensure that the group makes steady progress.
There is no better time than the present. RRI is the culmination of years of advocacy and activism by numerous members of our TCU community.
The RRI is an academic initiative focused on TCU's history. It works independently from the Office of Diversity, Equity & Inclusion, the Office of Institutional Equity, Inclusiveness & Intercultural Services, and the DEI committee. If the RRI receives inquiries outside its scope, it will redirect those questions to the appropriate office.
As the Race & Reconciliation Initiative winds down for the first semester, many in the TCU community have asked about ways they can support their efforts. Here are five practical tips for you to get involved.
Spring Assignments: Faculty may incorporate readings or assignments that contribute to RRI's historical study of TCU's relationship to slavery, racism and the Confederacy. Contact rri@tcu.edu for suggestions that relate to your course(s).
Attend Town Hall Meetings: There is a virtual town hall meeting every month, beginning this spring on Jan. 28. Faculty may incentivize student attendance by offering extra credit for each event. Attendees will learn about the ongoing research and get updates on the initiative.
Host Guest Speakers: Request a guest speaker from the RRI committee for your classroom, division or club/organization. Committee members can expand the dialogue about the power of history and how to tell a holistic story. Email rri@tcu.edu.
Attend Roundtable Discussions: Faculty, staff, students and alumni may participate in 'Running the Race' – in-person meet ups held from noon-1 p.m. the first Friday of every month under the open-air tent behind the founders statue. The sessions create a safe space and place to talk about race. Faculty may consider extra credit for student reflections on the discussions.
Reconciliation Day – 4/21/21: Faculty may include Reconciliation Day on their syllabi and everyone should make plans to join the virtual event, where RRI will share the first-year survey report. The report will include all that was learned about TCU's past and recommendations for ways to move forward together as the Horned Frog community.