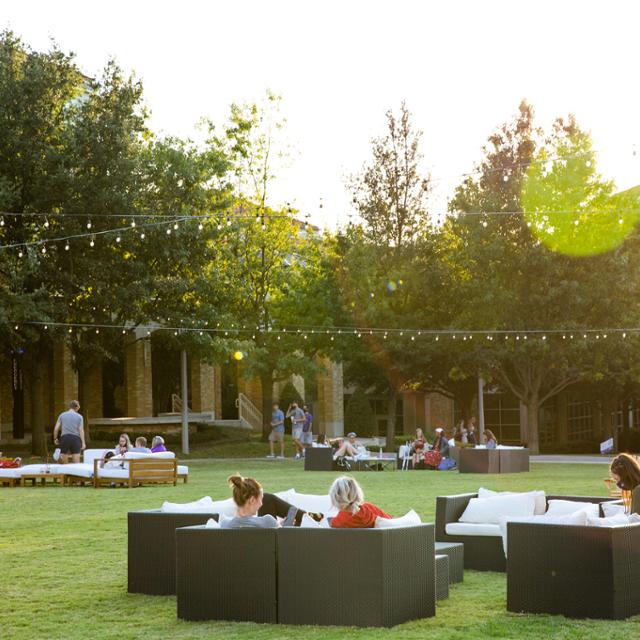 Sneak Peek: TCU's First 'Spring Refresh' Promises Plenty of On-Campus Fun
February 3, 2021
As the continuing pandemic forced universities across the country to rethink the traditional spring break, TCU leaders chose to create an on-campus "Spring Refresh" rather than forego a midsemester recess altogether.
"By March, our hardworking students, faculty and staff need some downtime to rest and reenergize — perhaps even more so in 2021. But to keep our COVID-19 case count as low as possible, it's important that students don't travel — so they don't take COVID with them or bring it back to campus. We want to keep everyone healthy and safe, and the new Spring Refresh will give students a well-deserved break without the coronavirus risks associated with traveling," said Brad Thompson, assistant director of Student Activities.
For the new Spring Refresh, no classes will be held Tuesday, March 9, through Thursday, March 11, and plans are underway for a variety of on-campus and nearby options for safe, in-person activities during that time. Here is a sneak peek of some of the activities planned:
Live music

in the Community Commons

throughout the week

Food trucks throughout the week (FREE for students)

Petting zoo in the Campus Commons

Lunch and Labyrinth hosted by Religious and Spiritual Life 

Day paddle at Marine Creek

Day hike at Eagle Mountain Lake

Outdoor

p

ool

p

arty at the Rec

Plus

More! Details coming soon
"We are finalizing details for some other fun activities as well as working on additional programming in residences halls that we will announce soon," Thompson said. "I don't believe that TCU has ever modified spring break before, so our amazing Horned Frog community will be making history again but having a lot of fun in the process."
A microsite with all the details of Spring Refresh activities will be launching next week.