Main Content
Our Chancellor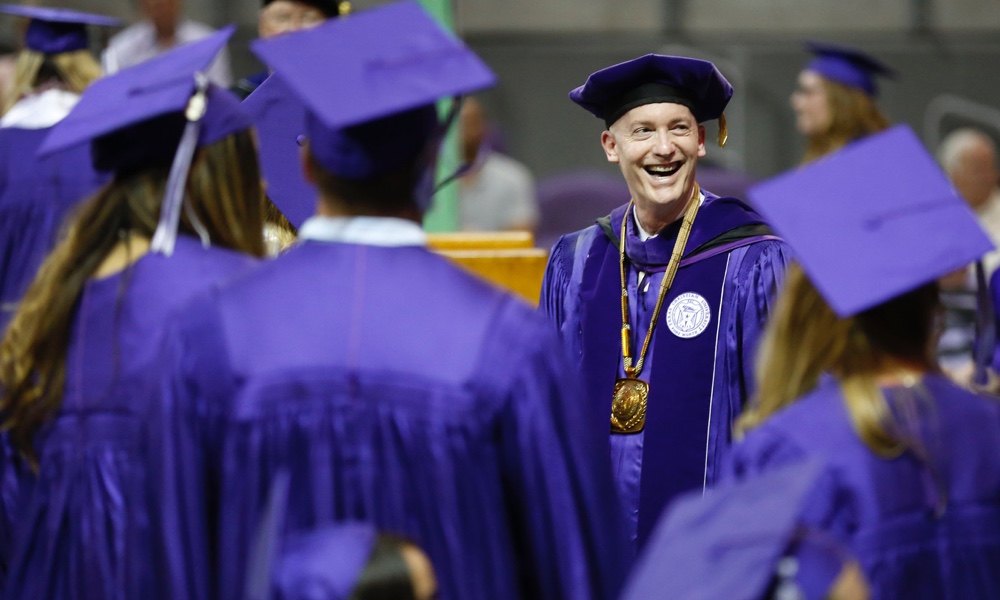 Victor J. Boschini, Jr.
Serving Higher Ed, The University, The Community And Every Student
Our 10th chancellor, Dr. Victor J. Boschini, Jr., has brought a special brand of student-focused leadership to TCU since his arrival here in 2003. Dr. Boschini teaches a popular yearly leadership course in the College of Education, where he holds the rank of professor.
Dr. Boschini earned a bachelor's degree from Mount Union College, a master's degree from Bowling Green State University, and a doctorate in higher education administration from Indiana University. In 2005, he received the Distinguished Alumni Award from IU's College of Education. He was awarded honorary doctorates from Lincoln University and The University of Mount Union.
"TCU is a place of ideas and ideals. Where social responsibility and ethical behavior are the core of our mission and the center of our daily lives."— Chancellor Boschini
Before his time at TCU, Dr. Boschini was the president of Illinois State University, where he had also served as vice president for student affairs and associate professor in the Department of Educational Administration and Foundation. He previously held administrative and teaching positions at DePauw, Butler and Indiana universities.
Family & Community
The Chancellor's reputation for connecting with TCU students is partnered with a warm spirit of hospitality cultivated by his wife, Megan. The Boschinis frequently entertain students, faculty, staff, alumni and supporters in their home, Minor House.
Both Dr. and Mrs. Boschini are members of the Addison & Randolph Clark Society at the Centurion Level, members of the Chancellor's Council, and the TCU Frog Club. The Boschinis attend many campus events and travel to many locations advocating for the University. Their four adult children are all Horned Frogs.
Spirit Of Service
Dr. Boschini serves on the boards of State Farm Company Mutual Funds, the Fort Worth Symphony Orchestra, the Van Cliburn Foundation and the Moncrief Cancer Institute. Mrs. Boschini serves on the board of Gill Charity, Inc. and is active in the Fort Worth community.
"These principles will serve you well throughout life: Serve with respect. Continue learning with passion. Lead with integrity."— Chancellor Boschini
A leader in higher education, Dr. Boschini serves as a representative of the Big 12 Conference on the NCAA Presidential Forum that involves presidential leadership of intercollegiate athletics. Previously, he chaired the National Association of Independent Colleges & Universities (NAICU), headquartered in Washington, D.C.
Legacy Of Change
During the chancellor's tenure, TCU has experienced unprecedented growth and support, enabling the University to become "the Academy of Tomorrow," climbing in rankings and flourishing as a world-class, values-centered university. The strategic plan Vision in Action, funded by a $434 million campaign, doubled scholarship support and brought about a complete campus transformation. The newest phase, Vision in Action: Lead On focuses on a new era of opportunities for the University's student population and programs.