Main Content
Phi Beta Kappa at TCU
For fifty years, TCU has been among the elite 10 percent of American universities that meet the rigorous academic standards required to have a Phi Beta Kappa chapter.
Founded in 1776, Phi Beta Kappa is the nation's oldest and most prestigious academic honor society. Its motto, "love of learning is the guide of life," perfectly expresses TCU's commitment to a quality liberal arts education and dedication to a lifetime of enquiry. In 1971 our chapter— Delta of Texas — became the fourth chapter granted in the state.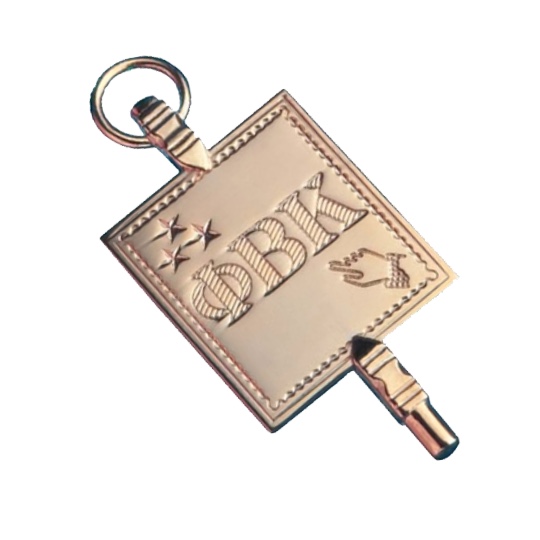 Phi Beta Kappa's legacy includes 17 U.S. presidents, 42 Supreme Court justices and more than 150 Nobel laureates. Membership in Phi Beta Kappa is a distinction highly regarded by employers, and key holders are presented with opportunities for networking as well as lifelong intellectual and civic engagement.
To be considered, students must have excellent grades in studies showing a breadth of knowledge in the liberal arts. Most initiates are juniors and seniors, and graduate students are sometimes invited.
Initiates are recognized each April at Honors Convocation, and each year one Phi Beta Kappa Senior Scholar is announced at the Honors Banquet.
We are extremely proud of TCU's affiliation with Phi Beta Kappa and the achievements of our initiates.
Eligibility for election to membership in course shall be contingent upon fulfillment of the following minimum requirements. Chapters are expected to determine the specific application of standards stated in these Stipulations.
Eligible students shall be candidates for a bachelor's degree in a College of Arts and Sciences or its institutional equivalent.
They shall be majoring in an area of the liberal arts or sciences. If departments of economics, music, political science, or other subjects normally offered in a College of Arts and Sciences are classified in another division of the institution, students majoring in these subjects may be considered if they are candidates for a bachelor's degree in a College of Arts and Sciences.
They shall include not less than 90 semester hours (or the equivalent) of liberal arts work among the 120 hours ordinarily required for the degree, exclusive of required courses in physical education and any military science.
Students electing a combined curriculum in such fields as law, medicine, dentistry, or engineering may be considered if they take at least 90 semester hours or the equivalent of liberal arts work in a College of Arts and Sciences, complete at least half of the requirements for a liberal arts major, and meet all of the other requirements defined in these Stipulations.
Grades earned in applied or professional work shall not be counted in computing the grade-point average for purposes of eligibility. Applied and professional work shall be understood to include those courses intended primarily to develop skills or vocational techniques in such fields as business administration, education, engineering, home economics, journalism, library science, military science, physical education, communications, secretarial studies, speech, and applied art and music.
Weight shall be given to the breadth and proportion of the program of each candidate as shown by the number and variety of courses taken outside the major.
Candidates shall have demonstrated, by successful work in high school or college, or in the two together, a knowledge of mathematics and of a foreign language at least minimally appropriate for a liberal education. In no case shall this mean less than the completion of the intermediate college level in a foreign language, or its equivalent, and the equivalent of two years of college preparatory secondary school mathematics. Either requirement may be met by a proficiency test.
The Stipulations Concerning Eligibility for Membership in Course were adopted by the Phi Beta Kappa Council in 1952. Chapters founded since 1952 are required, and others are requested, to observe the Stipulations, which, as printed above, incorporate revisions made by the Twenty-Ninth Council in September 1970, and amendments adopted by written vote of the chapters in July 1991.
NOTE: The above requirements stipulate the minimum requirements to be considered for election. Each chapter is allowed to induct only 10% of the number of the preceding year's graduates who earned degrees in the liberal arts and sciences. Members of the TCU chapter meet to examine the transcripts of persons meeting the minimum requirements to elect the best of those candidates to fill the available induction spaces. Not all students who meet the minimum requirements are elected to membership.
The TCU Chapter of Phi Beta Kappa, Delta of Texas, consists of all faculty and staff on campus who have been elected to PBK, no matter where or when. If you are a member of PBK and are not on this list, please contact Jodi Campbell.
Officers
President
Jodi Campbell, History
Vice President
Greg Friedman, Mathematics
Secretary
David Grant, Religion
Treasurer
Rob Garnett, John V. Roach Honors College
Historian
David Moessner, Religion
Members
Mikio Akagi, John V. Roach Honors College
William Baird, Brite Divinity School, Emeritus
Victor A. Belfi, Mathematics, Emeritus
Bonnie Blackwell, English
Cathy D. C. Block, Education, Emerita
Eugene Boring, Brite Divinity School, Emeritus
Colby Bosher, Academic Adviser, John V. Roach Honors College
Joseph Butler, School of Music
Jodi Campbell, History
Carrie Currier, Political Science
John-Mark Day, Student Development Services
Michael Dodson, Political Science
Nowell Donovan, Geology, Provost to the University
Robert Doran, Mathematics
Ze-Li Dou, Mathematics
James Duke, Brite Divinity School
Homer Erekson, Neeley School of Business
Anne Frey, English
Greg Friedman, Mathematics
Robert Garnett, John V. Roach Honors College
Theresa Gaul, English
Ann George, English
Daniel Gil, English
George Gilbert, Mathematics
Rebecca Glass, Technology Resources
David Grant, Religion
Amanda Hale, Biology
John Harvey, Economics
Rhonda Hatcher, Mathematics
Jill Havens, English
Andrea Heitz, University Advancement
Jack Hill, Religion, Emeritus
Sarah Hill, Psychology
John Hopkins, School for Classical and Contemporary Dance
John Horner, Biology
Linda Hughes, English
Donald Jackson, Political Science, Emeritus
George Joe, Institute of Behavioral Research
Roby Key, University Advancement
David Kinch, Technology Resources
Ted Klein, Philosophy, Emeritus
Kevin Knight, Institute of Behavioral Research
Nadia Lahutsky, Religion, Emerita
Susan Layne, Center for International Studies
Amy Leslie, Mary Couts Burnett Library
William Meier, History
Amanda Milian, History
David Moessner, Religion
Mary Morton, Harris College of Nursing & Health Sciences
Megan Murphey-Jones, University Marketing
Robert Neilson, Chemistry
Lauren Nixon, John V. Roach Honors College
Andie Piehl, College of Fine Arts
Catherine Elizabeth Plummer, Neeley School of Business
C.A. Quarles, Physics, Emeritus
Stephen Quinn, Economics
Nancy J. Ramsay, Dean, Brite Divinity
Evelyn Richardson, Financial Services
Ken Richardson, Mathematics
Kristi Rittby, Mathematics
D. Mike Sacken, Education, Education Administration
Melissa Schroeder, Communication Studies
Virginia Schmidt, Institute of Behavioral Research
Kathryn Sederberg, Modern Language Studies
Rebecca Sharpless, History
Brittany Smith, Office of Religious and Spiritual Life
Chandler Smith, University Advancement
Emmett Smith, Music, Emeritus
Karen Steele, Dean, School of Interdisciplinary Studies
Michael Strausz, Political Science
Mark Thistlethwaite, Art History
Robert Vigeland, Accounting
Spencer Wertz, Philosophy, Emeritus
Tracy Rundstrom Williams, Center for International Studies
The Delta of Texas chapter remembers and honors our members who have passed away.

In Memoriam:
Paul Boller, History, Emeritus
Don Coerver, History
Arthur Ehlmann, Geology, Emeritus
Bob Frye, English, Emeritus
Peter Locke, Finance
Frank Reuter, History, Emeritus
David Vanderwerken, English
Spring 2021 Initiation will be held Thursday, May 6, 2021, at 2:00 pm in the BLUU Ballroom.
Each year, TCU's Delta of Texas selects one Phi Beta Kappa student to be the James W. Newcomer Senior Scholar. This award is named for Dr. James W. Newcomer, who was one of the founding members of TCU's chapter in 1971 and was instrumental in shaping its development over the following decades.
We are pleased to recognize his contributions by giving this award to the Phi Beta Kappa candidate who best exemplifies the ideals of Phi Beta Kappa as expressed in its motto "Love of learning is the guide of life."
The 2020 Newcomer Senior Scholar is Laska Anderson.
Previous recent Newcomer Senior Scholars include:
2019: Andreley Bjelland
2018: Kendra Larach
2017: Malcolm Baker
2016: Kelcie Willis
Based in Washington, DC, the Phi Beta Kappa Society offers a variety of programs that champion education in the liberal arts and sciences and foster freedom of thought:
National Arts & Sciences Initiative
Visiting Scholar Program
Awards and fellowships
Key Connections networking events
Alumni associations
Publications
Podcasts
Digital book club