Main Content
Art Education
Share the universal language of art by teaching in public and private schools, museums and community organizations.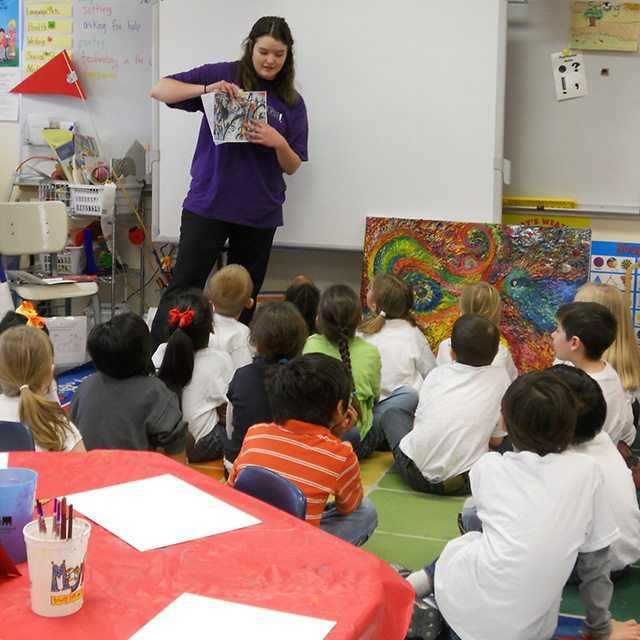 In our program, you will develop your skills as an artist. You'll choose an area of studio emphasis — ceramics, new media, painting, photography, printmaking or sculpture —and complete five classes in this area.
You'll also develop your skills as a teacher. In each of your four art education courses, you'll be paired with an art teacher to observe and teach alongside him or her for 10 hours. You'll design and teach an art curriculum to your peers in art education classes, using the latest technologies in a classroom stocked full of every art material imaginable.
And you'll use art to improve the world: developing your skills as a caretaker for children and receiving valuable training from Alliance for Children in how to recognize and prevent child abuse. You'll work with dozens of children from various socioeconomic and developmental backgrounds, including children experiencing disabilities.
Visit Department Website
Programs Offered
---
Special Admission Requirements
---
A portfolio is required to pursue an undergraduate degree in Art Education.
What Sets Us Apart
---
We'll nurture your passion to create by developing your artistic skills, then give you the specialized skills to make a difference in the lives of others. And there's a world just waiting for you: TCU boasts a 100-percent job placement rate for all of our art education graduates.
Career Prospects
---
Regardless of your professional direction, you'll work closely with an advisor as you begin your senior year to prepare for your job search. We have a 100-percent job placement rate for all art education graduates. This is partly due to the fact that you are mentored for professional work beginning the first semester of your first year.
As an art education graduate, you'll have access to a robust network of TCU art education alumni. Our art education Horned Frogs are pre-K-12 art teachers that you can observe during your art education courses, museum educators that you can contact and visit, business owners and art therapists who are willing mentors. Members of the TCU network stand ready to answer questions and guide you on your professional path.
Related Academic Programs
---