Main Content
Deaf & Hard of Hearing Studies
Bring language and understanding to those without access to sound.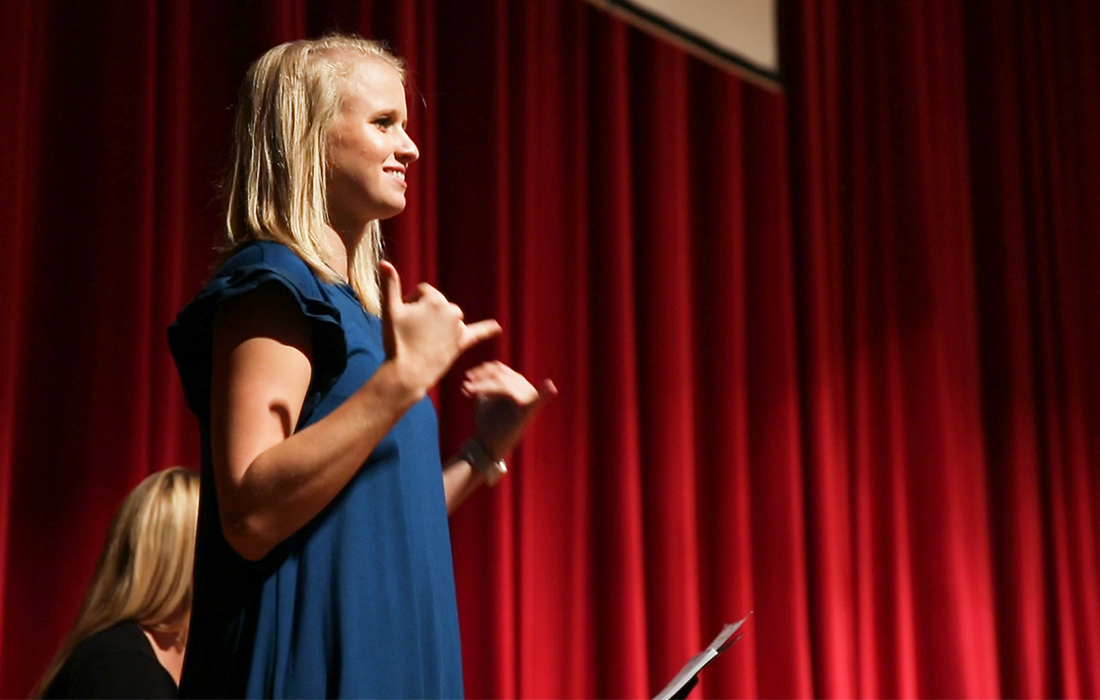 In this program you'll gain the specialized knowledge needed to enhance the educational experience of deaf and hard of hearing students through their clinical and classroom settings. You'll become an expert in language acquisition and the unique learning and communication needs of these students.
TCU has been training educators of the deaf and hard of hearing for more than 50 years and has earned a reputation for excellence. Our graduates are highly sought-after professionals, typically finding employment immediately upon graduation and filling the need for educators of the deaf and hard of hearing throughout the United States.
Visit Department Website
Programs Offered
---
Sample Courses
---
Basic and Advanced Sign Language
American Sign Language I and II
Anatomy & Physiology of the Speech & Hearing Mechanisms
Clinical Practicum in Teaching DHH Students I and II
View Courses & Degree Requirements
Special Admission Requirements
---
There are no special admissions requirements for this program.
What Sets Us Apart
---
The teacher-scholar philosophy at TCU means professors actively immerse themselves in research--often with involvement of both undergraduate and graduate students. When your teachers are involved scholars themselves, everyone benefits.
You'll be given the opportunities to learn alongside your professors on field studies all over the United States.
At TCU there's a shared willingness by faculty to collaborate across disciplines in teaching and research. Our goal is for students to build on their new knowledge, making valuable connections between concepts and ideas from different areas of study. This motivates our students to be more creative in their lifelong learning, and enhances the critical thinking skills needed for problem solving in today's world.
International awareness and cross-cultural understanding are critical to TCU's mission. Our faculty members are committed to empowering students to broaden their perspectives while addressing the world's problems. TCU's international programs inspire, enlighten and prepare Horned Frogs to make positive change for the greater good.
Career Prospects
---
Unique among other programs in Texas, the BS in Deaf & Hard of Hearing Studies at TCU creates opportunity for dual certifications in all-level DHH and either general education or secondary English language arts. Upon successful completion of this program, you can work as a teacher of the deaf and hard of hearing, an elementary school teacher within general education populations or a high school teacher in the area of English language arts.
Related Academic Programs
---