Main Content
Biochemistry
Explore the chemistry of living systems, and the experimental techniques used to understand them.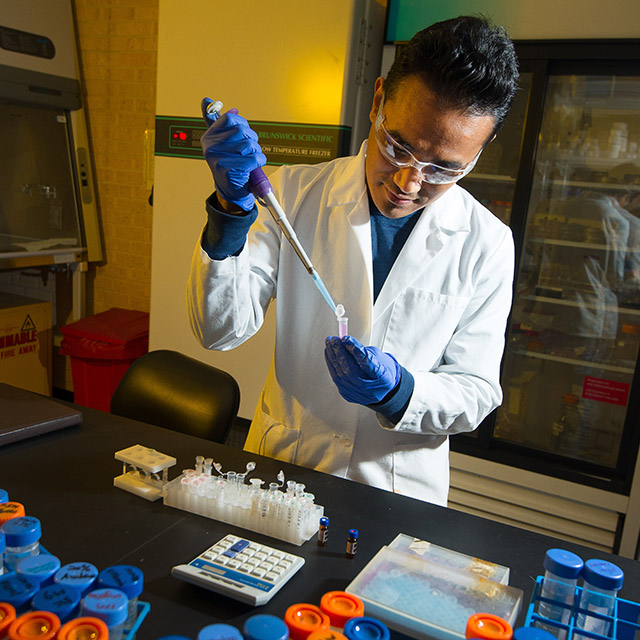 While chemistry is often referred to as "the central science," the impact on human health and our understanding of the natural world is best captured by biochemistry, which looks at living systems through the lens of molecules and their interactions.
As a biochemistry student, you'll have opportunities to work on faculty-directed projects to help you create new chemical knowledge on some of today's greatest challenges.
Visit Department Website
Programs Offered
---
Special Admission Requirements
---
There are no special admissions requirements for this program.
Our Faculty
---
We're a student-centered department committed to the teacher-scholar model. Teaching is central to our department's mission: we hire faculty who are passionate about teaching and highly trained in their area of specialization. Meet our faculty.
What Sets Us Apart
---
Research plays a major role in the professional life of our tenure-track faculty. These research programs support our teaching mission and provide students with practical, hands-on training in world-class chemistry research.
Career Prospects
---
In addition to technical positions in industrial or governmental research labs, many chemistry graduates pursue advanced study in chemistry, medicine, law, journalism, and business. While some biochemistry graduates take top-entry level jobs, most grads enter medical or dental school. TCU's best biochemistry students often enter prestigious M.D./Ph.D. programs like Duke or Stanford, with the long-term goal of doing biomedical research in a medical school setting.
Related Academic Programs
---