Main Content
Biology
Want to prepare for medical school, graduate study or a top-notch job? Study the principles of life from the molecular level to the biosphere.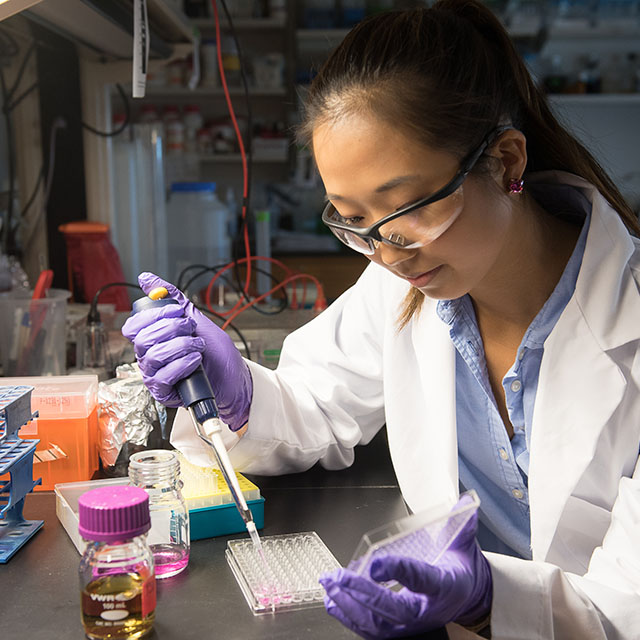 We train our majors broadly across all areas of biology from the biomedical to the ecological using an evolution-centered curriculum. Many biology students are interested in attending medical, dental or some other health professions school, while others are interested in working in academia or research.
Visit Department Website
Programs Offered
---
Special Admission Requirements
---
There are no special admissions requirements for our undergraduate program. For information on our graduate programs, please see our graduate admission requirements.
Our Faculty
---
Research plays a major role in the professional life of our tenure-track faculty. These research programs support our teaching mission and allow us to engage our students in the process of science. Many of our faculty members also serve on the Health Professions Advisory Committee. Meet our faculty.
What Sets Us Apart
---
Our students get accepted to medical school at twice the national average. They also score in the 74-88th percentiles on the ETS Major Field Test, which assesses mastery of concepts expected of students who have completed or are nearing completion of a specific program of study.
TCU is home to excellent laboratory facilities, a culture of personal attention and opportunities to participate in research with faculty.
Career Prospects
---
As a biology graduate, you may choose to pursue medical, dental or another professional school after graduation. Others may work at health care and technology-related companies such as:
Reliance Clinical Testing
Progressive Psychiatry
PhysAssist Scribes, Inc.
USMD Health Systems
CVS Pharmacy
Texas Health Resources
Related Academic Programs
---