Main Content
Computer Information Technology
Immerse yourself in the rapidly changing world of information technology.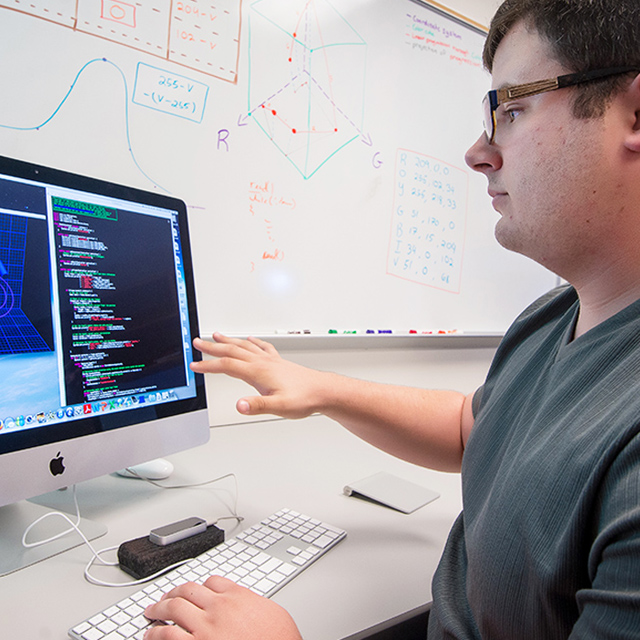 An ever-evolving landscape of digital technologies awaits you. You'll study system and network administration, the most current web technologies, interface and scripting fundamentals, and computer and network security.
Visit Department Website
Programs Offered
---
Sample Courses
---
Introduction to Programming
Data Structures
Computer System Fundamentals
Web Technologies
Interface Design and Scripting Fundamentals
Advanced System and Network Administration
View Courses & Degree Requirements
Special Admission Requirements
---
There are no special admissions requirements for this program.
Our Faculty
---
Our varied research expertise helps us prepare students to become lifelong learners and responsible practitioners of computer information technology for the future of the modern world. Meet our faculty.
What Sets Us Apart
---
In this program you'll delve into a year-long software engineering and capstone design course, working as part of a team developing and implementing a solution for a real-world client. The program focuses on how to apply computer technology (both hardware and software) in the workplace through courses such as database administration and project management. We closely follow best practices recommended by professional organizations such as the Association for Computing Machinery and the Institute of Electrical & Electronic Engineers Computer Society.
Career Prospects
---
Graduates in computer information technology work in many sectors of industry, including business, financial services, defense, communications, logistics and education. Our recent graduates and alumni work at Fortune 500 companies including:
IBM
Microsoft
American Airlines
Nokia
Lockheed Martin
Chase Financial Services
BNSF Railway
Accenture
Google
AIG
Related Academic Programs
---