Main Content
Engineering
Your real world experience starts almost as soon as you start this engineering program.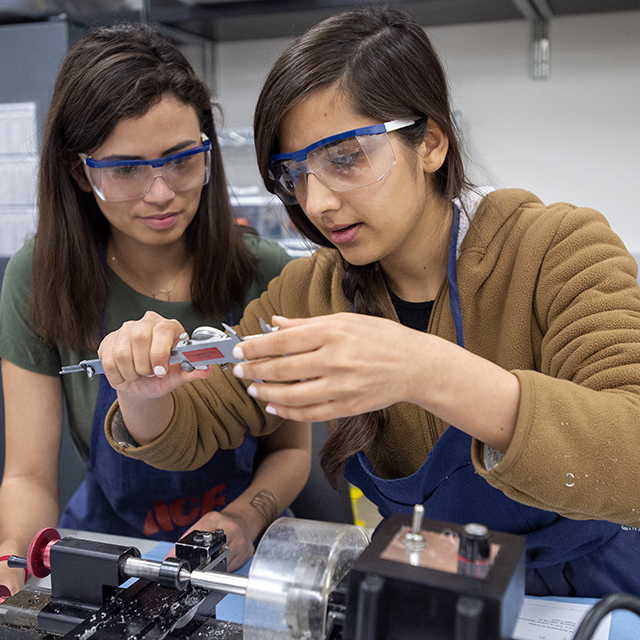 You'll be a well-rounded engineer with practical experience and sound technical understanding—even conducting research with faculty as early as your first year, in areas such as microelectromechanical systems, smart sensing, and control devices and systems.
Our program offers an emphasis in either electrical or mechanical engineering to build upon your understanding of general engineering principles.
Visit Department Website
Programs Offered
---
Special Admission Requirements
---
There are no special admissions requirements for this program.
Our Faculty
---
You'll get personal attention through our dedicated faculty's open-door policy. With a strong variety of research and industry expertise in engineering, our faculty has a wide range of knowledge to share as you explore research opportunities and decide on the next step after graduation. Meet our faculty.
What Sets Us Apart
---
In our program, you can lead your own "engineering company" in your senior year capstone design project, where you'll work as a team with your classmates to design and produce a product on time and within budget for real clients like Alcon Laboratories, Bell Helicopter Textron, Lockheed-Martin Aeronautics or GE Transportation.
Career Prospects
---
After graduation, virtually all TCU engineering students have job offers or acceptance to graduate school. Our alumni work with companies like:
Corning Cable Systems
Bell Helicopter Textron
Lockheed Martin
Axxis Building Systems
Burns and McDonnell
Schlumberger
Summit Consultants Inc.
Ford Audio-Video Systems
Tubular Synergy Group
Exxon Mobil
Jacobs Engineering
Texas Instruments
Related Academic Programs
---