Main Content
Management and Leadership
Do you enjoy motivating others, finding creative solutions, and strategizing for success? You sound like management material.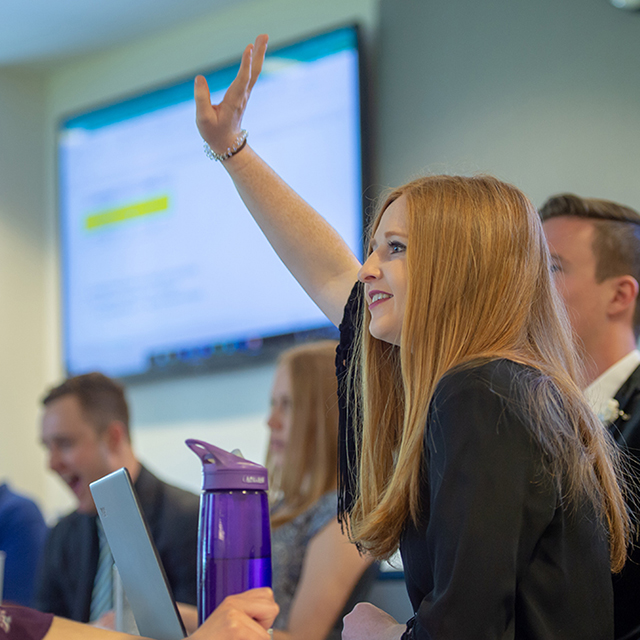 Business is about people. And people need managers with a leadership mindset for success. The best managers excel at decision making, finding common ground, building on strengths, negotiation, communication, team building, adaptability, flexibility and strategic planning. With a major in managing people and organizations, you'll explore, learn and practice the range of skills employed by today's most respected, successful, ethical leaders.
Visit Department Website
Programs Offered
---
Sample Courses
---
Leader Development
Managing People and Human Resources
Team Dynamics
Organizational Research & Consulting
Principles of Negotiation
Leading a Diverse Workforce
View Courses & Degree Requirements
Our Faculty
---
Our faculty members will engage you in meaningful dialogue, critical thinking and ethical decision making. They bring to the classroom a wealth of leadership and management experience and research. They rank highly for mentorship, academic experience and teaching quality. They are renowned and respected experts who are frequently called upon for insights into current news stories.
What Sets Us Apart
---
BNSF Neeley Leadership Program - What does it take to be a leader? By the end of this three-year program, you'll not only know the answer, you'll live it. You'll reflect, learn, practice and grow to your fullest potential, ready to influence and lead change in all aspects of your career and life.
Career Prospects
---
You can take this major anywhere. A degree in Management and Leadership will prepare you for a variety of job opportunities in just about any type of occupation: management training programs, talent management, consulting, production, international and small business, health care, government agencies, financial institutions, telecommunications, hospitality, education and more.