Main Content
Nurse Anesthesia
Advance your career by taking on one of health care's most important jobs.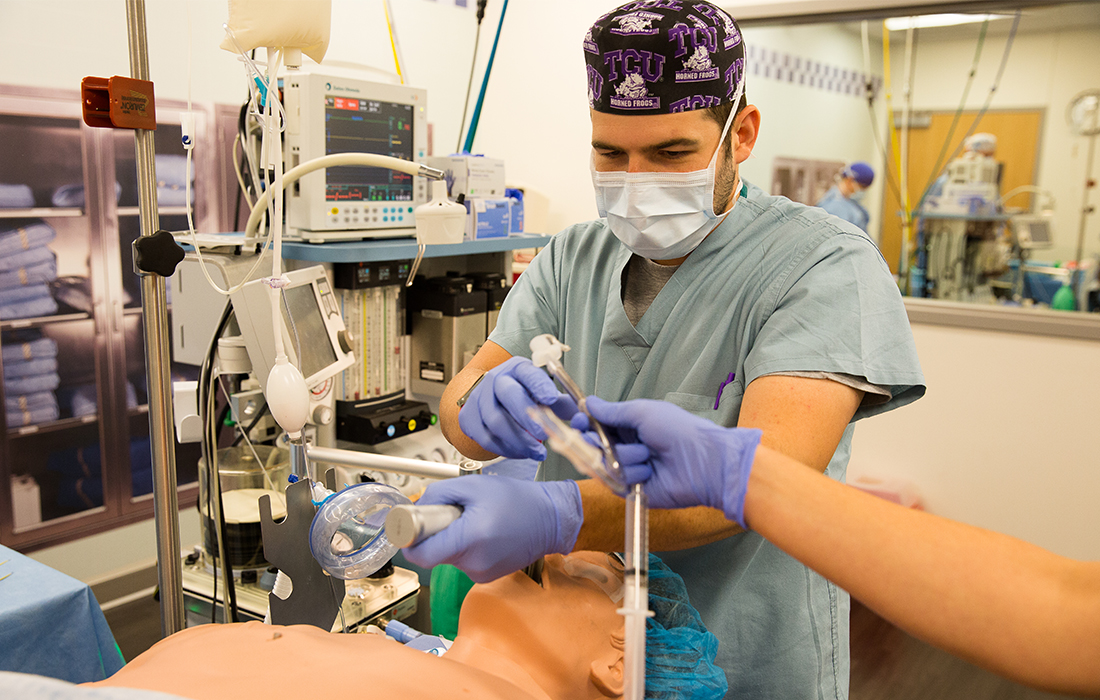 Build your knowledge and skill with online and on-campus coursework, simulation experiences and clinical residency at one of more than 60 clinical sites across the U.S. As a certified registered nurse anesthetist, you'll provide patients with anesthesia, pain management and occasional emergency services. Nurse anesthetists are some of the highest-earning practitioners in nursing with a national average salary of $165,000 and the field is expected to see 16% growth between 2016 and 2026.
Visit Department Website
Programs Offered
---
What Sets Us Apart
---
TCU's teacher-scholar-practitioner model results in the advancement of the practitioner, the profession, and society. You'll benefit from a safe, supportive environment, high expectations and freedom to question, and learn to manage complex anesthetic care of patients by integrating sound scientific knowledge with technical and clinical skills.
The teacher-scholar philosophy at TCU means professors actively immerse themselves in research--often with involvement of both undergraduate and graduate students. When your teachers are involved scholars themselves, everyone benefits.
You'll be given the opportunities to learn alongside your professors on field studies all over the United States.
At TCU there's a shared willingness by faculty to collaborate across disciplines in teaching and research. Our goal is for students to build on their new knowledge, making valuable connections between concepts and ideas from different areas of study. This motivates our students to be more creative in their lifelong learning, and enhances the critical thinking skills needed for problem solving in today's world.
International awareness and cross-cultural understanding are critical to TCU's mission. Our faculty members are committed to empowering students to broaden their perspectives while addressing the world's problems. TCU's international programs inspire, enlighten and prepare Horned Frogs to make positive change for the greater good.
Career Prospects
---
Our students consistently score 11-47 points higher than the national average on the National Certifying Examination.
Our students typically experience more than 900 anesthesia cases during their clinical education.
Nurse Anesthetist ranks #5 in best health care jobs, according to the U.S. Bureau of Labor Statistics.
Nurse Anesthetist ranks #11 in best-paying jobs, according to U.S. News & World Report.