Main Content
Studio Art
Develop the visual and technical vocabulary to prepare you for a career of creative expression.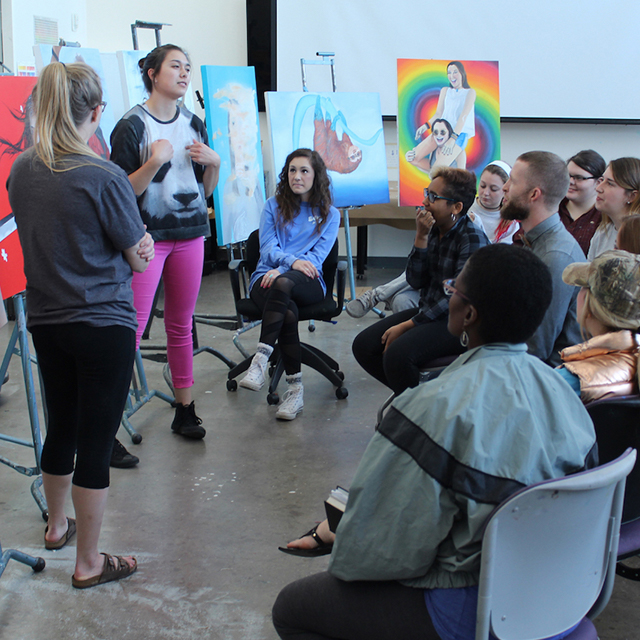 As a studio art student, you'll experience your education through a variety of contexts from cross-disciplinary interaction and off-campus exhibitions to classes in professional practices. Choose from courses in painting, photography, printmaking, sculpture, ceramics and new media and create in our inspiring studio spaces. Your projects could include interactive and robotic components, creating a printmaking artist's book or building steel-fabricated sculptures.
Undergraduate concentrations include:
Painting
Photography
Printmaking
Sculpture
Ceramics
New Media
MFA concentrations include:
Painting
Printmaking
Sculpture
Visit Department Website
Programs Offered
---
Special Admission Requirements
---
A portfolio is required to pursue both undergraduate and graduate degrees in Studio Art.
What Sets Us Apart
---
As a TCU student, you have access to Fort Worth's world-class museums, where many of your classes meet to discuss original works of art. Besides getting familiar with the impressive permanent collections here, you'll be able to view special exhibitions, enjoy behind-the-scenes tours by museum staff, and soak up lectures, symposia and gallery tours.
The Art Galleries at TCU are a dynamic cultural resource presenting unique exhibitions and projects by notable contemporary and aspiring artists. Its two galleries — Moudy Gallery and Fort Worth Contemporary Arts — act as a catalyst for critical dialogue and a vital avenue to exhibit your work.
Students can also volunteer or intern as gallery attendants. Interns are typically assigned social media responsibilities for the galleries and researching artists' work for future exhibition projects.
Career Prospects
---
In addition to becoming successful professional artists and pursuing graduate school, TCU studio arts graduates follow a wide variety of creative career paths. Our art students have become designers, event planners, teachers, museum and gallery professionals— and one of our alumni enjoys a specialized career as a prosthetics painter.
Related Academic Programs
---