Main Content
Theatre
Pursue professional theatre training in a liberal arts environment.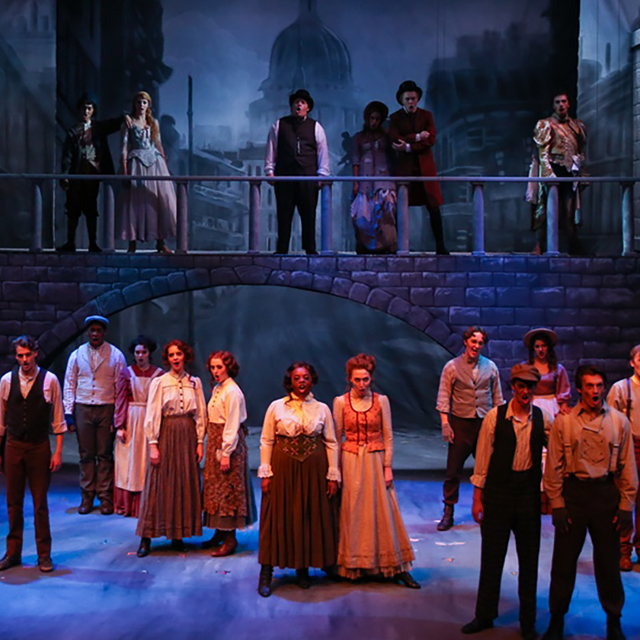 You'll get a broad-based education to prepare you for a career in professional theatre and more. Build on your talent and your future as you develop your analytical thinking, clarity in written and spoken expression, collaboration and creativity.
Choose from BFA specializations in acting, musical theatre, all areas of design, technical production and theatre studies. We also offer a broad-based BA degree in theatre, open to all TCU students.
Follow your passion in a major metropolitan area that is a vibrant center for the arts. The Dallas-Fort Worth Metroplex boasts outstanding professional theatre companies—many of which offer internships to Theatre TCU students—as well as superior museums and performances in music and dance.
Visit Department Website
Programs Offered
---
Special Admission Requirements
---
There are no special admission requirements to enroll in the BA Theatre program.
The BFA Theatre program requires an entrance audition and interview for performance majors and a portfolio review and interview for design and production majors.
What Sets Us Apart
---
Besides the flexibility of pursuing either a BA or a BFA, the opportunities for real-world experience and collaboration at TCU are a major plus. The department maintains close relationships with area professional theatres, connecting students with internships and stage experience. Every year, our students make valuable connections working as actors, production assistants, educators, front office and box office personnel, set designers, stage managers and technicians.
Career Prospects
---
When you graduate, you'll join an impressive network of Theatre TCU alumni who work across the nation in professional and academic theatre, including graduates who have garnered roles as actors and choreographers on Broadway, major regional theatres, and national tours; as stage managers; as voice actors; as designers and production technicians for cruise line productions; and as theatre educators.
Related Academic Programs
---