Main Content
Voice
Find your voice on the stage, in the classroom or in the world.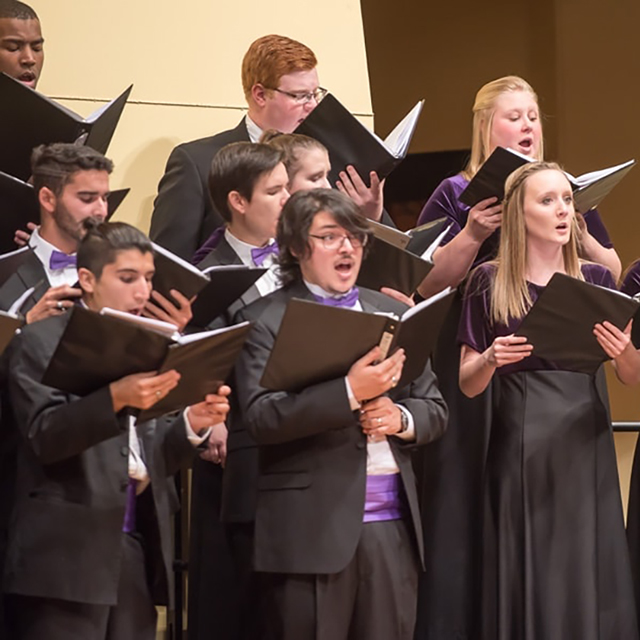 Take your talent to a new level through the TCU School of Music, taking advantage of myriad on-campus choral, jazz and operatic ensembles, as well as chances to delve into the rich musical culture of the Dallas-Fort Worth area.
Fort Worth is brimming with opportunity for young singers. In addition to performing on campus, our students sing in local churches and with professional organizations like the Fort Worth Opera and Dallas Opera.
Our TCU/Fort Worth Opera Young Artist Diploma Program is a collaborative, two-year, post-baccalaureate program for students displaying exceptional talent and potential for a career in opera. TCU provides continued study in performance-related fields and Fort Worth Opera provides professional experience.
Visit Department Website
What Sets Us Apart
---
At the John Large Vocal Arts Laboratory at TCU, we address both the art and science of singing. Our studio instruction is enhanced by tools aiding in understanding the physiological and acoustical processes of the voice. Through specialized equipment and software, you'll learn the acoustic parameters of pitch control, fundamental frequency and harmonic partials affecting vocal timbre, vowels and linguistic accuracy.
Career Prospects
---
Our graduates have gone on to enjoy positions that include operatic groups from the Los Angeles and Wolf Trap opera companies in the U.S. as well as Deutsche Oper Berlin in Germany and the Grand Théâtre de Genève in Switzerland. Through the power of the human voice, these Horned Frogs have helped bridge cultures and gained a broader perspective on the world around them.
Others have chosen to continue their academic studies and have been accepted into prestigious graduate programs such as Boston Conservatory of Music, New England Conservatory of Music, Eastman School of Music, University of Cincinnati College-Conservatory of Music, University of Southern California, Cleveland Institute, Manhattan School of Music and the Mozarteum in Salzburg, Austria.