Main Content
Strings
Take your musical talent to the highest level.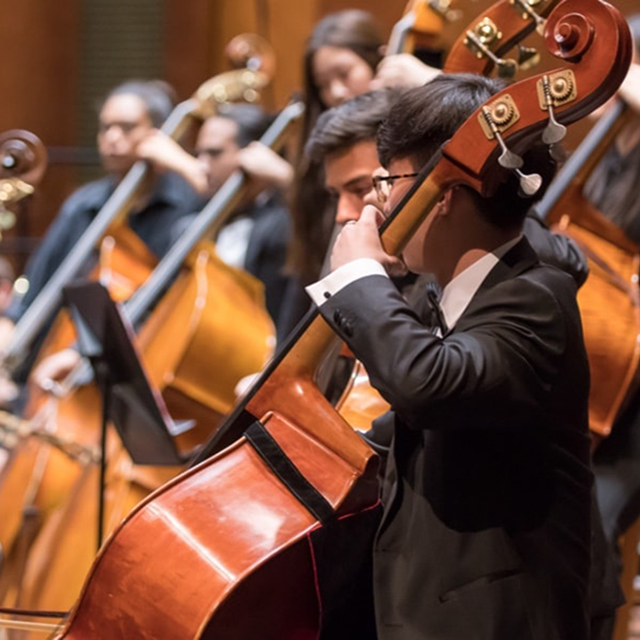 At TCU we offer a world-class education from a faculty comprising nationally and internationally recognized musicians in violin, viola, cello, bass, harp and guitar. The curriculum encompasses studio instruction, orchestral performance, chamber music study, instrumental pedagogy and several areas of special interest.
Visit Department Website
What Sets Us Apart
---
TCU is home to several important string-related festivals and workshops: Chamber Music Roundup festival and Intensive String Quartet Workshop for advanced students, CelloFest, BassFest, Harp Workshop and TCU Summer String Workshop. These programs offer our students opportunities to work and perform with some of the best professional musicians in the world.
There are many performance opportunities at TCU. You'll take part in solo recitals, concerts by the TCU Symphony, chamber music ensemble concerts, New Music Ensemble recitals, Collegium ensemble performances, opera productions and many others.
Career Prospects
---
Many career options are possible upon graduation. You'll find our School of Music alumni in Dallas-Fort Worth area's orchestras, in teaching positions, or leading community outreach programs like the B Sharp Foundation in Fort Worth— even establishing their own music businesses and conservatories. Our alumni enjoy solo careers, leading sections of professional orchestras, touring with chamber music groups, and teaching all across the United States and internationally.